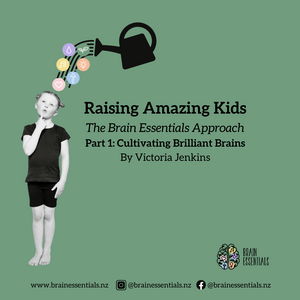 Unlock the Potential of Your Family with "Cultivating Brilliant Brains, Part 1 of Raising Amazing Kids"!

Are you ready to transform your family dynamics and raise truly exceptional children? Look no further than our 51-minute presentation, "Cultivating Brilliant Brains." Now, you can experience this enlightening journey from the comfort of your own home.

Discover the Power of "Cultivating Brilliant Brains" as it:

1. Illuminates Your Family: Gain profound insights into your family's dynamics, enabling you to nurture stronger connections and understanding among your loved ones.

2. Unravels Human Behaviour: Explore the science behind key human behaviours, empowering you with the knowledge to navigate challenges effectively.

3. Inspires Positive Change: Learn simple yet impactful strategies to enhance the harmony within your family and create a thriving household.

What Will You Learn?


The Four Essential Desires of Your Child's Mammalian Brain: Delve into the innate needs that drive your child's development and happiness.
Collaborative Parenting: Discover how to align your parenting style with your child's natural instincts for a more harmonious relationship.
Practical Tools for Family Bliss: Acquire valuable tools and techniques that will make your parenting journey more manageable and enjoyable.




Victoria Jenkins seamlessly combines the worlds of science, parenting, and education to provide you with the ultimate guide to raising amazing kids. In today's fast-paced world, parenting can feel overwhelming, but it doesn't have to be.
Join us now and embark on a transformative journey with "Cultivating Brilliant Brains." Your family's brighter future starts here! Don't miss out—WATCH IT TODAY!