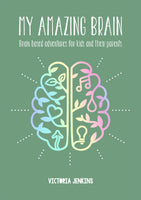 My Amazing Brain
Is an interactive journal about creating quality time and experiences with your children.
​Modern lifestyles are busy and sometimes this means parents spend less time with their children than they'd like. Therefore the time spent with children should be QUALITY time.
​My Amazing Brain includes 35 activities to create QUALITY EXPERIENCES with your child that:
​- are easy to carry out
- uses common items from around the home
- includes handy hints about parenting
- incorporates essential oils for mood and emotional support
teaches you and your child facts about brain chemicals, emotions, resilience and growing bodies
gives you something to 'pull out of your sleeve' when you need some inspiration
Each activity combines NeuroTools (see below) which have a physical, chemical or emotional effect on how we feel. NeuroTools are a fun, easy tools to 'calm the crazy' and to support your child's growing brain and body.
The activities from My Amazing Brain will help you to connect deeply with your child in a way that fosters connection,  healthy brain development and resilience.
​Children with well-connected brains have a better chance of becoming adults who:
- have good decision-making skills,
- can regulate their emotions and
- have a strong sense of self-worth and confidence.
Imagine if all children experienced that?! Well, that's exactly what we're on a mission to inspire with My Amazing Brain.
​
Victoria Jenkins x
Author of My Amazing Brain